From the most creative, to the most disturbing...after extensive research and analysis it's time to announce my favorite funny DIY costumes of the year...and the winners are...
The easiest DIY Costume:
The adorable kid in the Abercrombie Bag, apparently this one has been making the rounds of Facebook, and it's quite worthy of the attention. I wonder if his mom or dad was like, holy crap, I forgot it was Halloween, oh, here's my shopping bag, hope it fits!
LOVE LOVE LOVE this one!
Extra points for Craftsmanship:
Seriously? This one is no last minute endeavor, and how incredibly cute it this??? Hey Kool Aid!
Wagon Integration:
How cute is this one? Mouse in a mousetrap? LOVE!
For the Non-Walker
I think I have this same pot, would have been fantastic to use before Vivian could walk! How cut is this kid?
Movie Theme
This has to be one of my absolute favorites, little boy dressed up as the old man from the movie UP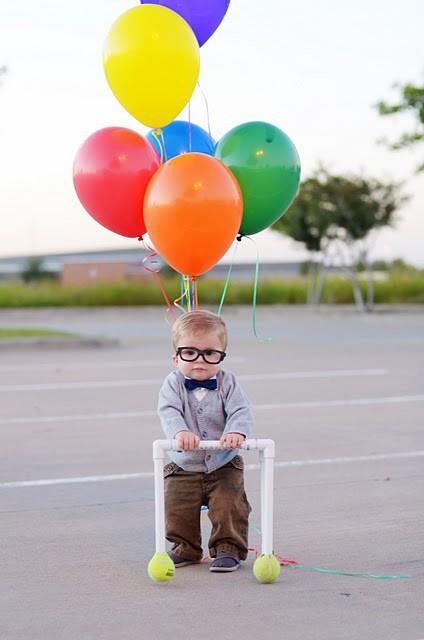 Superhero Cuteness
Holy cuteness Superman....or is it Clark Kent? This one from
Think Geek
has got to be one of my favorite easy last minute DIY's!
Sitcom Character
Hilarious Dwight from "The Office"....have to LOVE the grown-ups making their friends crack up!
For The Bald Baby
Can never go wrong with a classic! The Charlie Brown Costume, complete with hand drawn hair curl (hopefully it's not a Sharpie!)
The Slightly Disturbing
Yet another easy to make DIY costume, and just a little disturbing. Homeless bum toddler? Yep.
Most Disturbing
So my child has been constantly combining things in her costume ideas, "I am going to be a pumpkin-goat-unicorn witch"...I wonder who thought up the "Chicken with Alien Bursting Out" idea for this one! You have to admit, it's kind of funny!